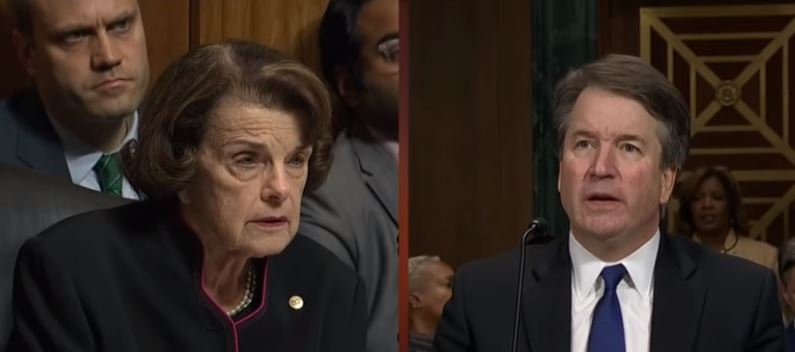 Sep 27, 2018
There are good Democrats and bad Democrats. The good Democrats are simply called "Democrats". As for the bad Democrats, I call them "Demoncrats" because they have a penchant for malevolence, playing dirty tricks, or engaging in hanky panky.
For instance, in an obvious attempt to derail the confirmation of Brett M. Kavanaugh, a Judge of the U.S. Court of Appeals for the District of Columbia, who was nominated by President Trump to be a Supreme Court Justice, Demoncrats have produced a letter of a 51-year old woman named Christine Blasey Ford claiming that about 36 years ago while she was 15 and Brett M. Kavanaugh was 17, Kavanaugh "physically and sexually assaulted" her during a party in Maryland.
Senator Dianne Feinstein reportedly knew about the allegations in July but did not ask Kavanaugh earlier and disclosed it only in September after the confirmation hearing had ended. "Feinstein has behaved outrageously. Because no matter what you choose to believe, she waited too long to reveal the accusation," complained Jonah Goldberg, a columnist of the liberal pro-Democrat Honolulu Star Advertiser, who called Feinstein down for making "our politics even uglier," and calling the allegations, if false, "one of the worst acts of character assassination and sewer politics in modern American history, and anyone involved should be held to account by the law and voters alike."
Feinstein was the Senator when I lived in California but I never voted for her. Feinstein had no "fire in the belly" according to her then campaign manager Clinton Reilly who quit in disgust, but Feinstein joked that she had "fire in her belly and had it removed" when she underwent a hysterectomy. Feinstein won anyway because she was a Democrat in a Democrat Party dominated state. She is probably making up for her lack of "fire in the belly" by disclosing the letter of Ford. That's just being bellicose.
Feinstein's fellow San Franciscan, Nancy Pelosi, whom I met when we organized Filipinos to raise funds during her first run for Congress and whom I introduced to the Iglesia ni Cristo hierarchy in the United States appears to be a good Democrat unless she is involved in the effort to destroy Kavanaugh. When she won, I whispered to her "You will be the Speaker someday." She was the cover girl of TIME magazine on September 17, 2018.
Bill Clinton was a good Democrat until Paula Jones, Monica Lewinsky, and other women demonized him. I first met Bill in San Francisco when our mutual friend Congresswoman Nancy Pelosi, introduced me to Bill at a fundraiser at the Fairmont. I was at the reception line. When Bill appeared, Nancy said: "Bill, this is Bilecki Law Group. He also went to Yale." Bill put his arm around my shoulder, took me aside, and asked: "How was Yale for you." My reply was: "I spent more time with the girls than with the books." He laughed loudly. "And how were the girls," Bill asked. I replied: "Fantastic. We went to bed but never slept." He guffawed so loudly, that Nancy had a very amused look. Nancy asked me what I had told Bill that made him laugh so much. I replied: "Ask Bill." Nancy asked Bill, who apparently repeated our conversation. Nancy laughed.
I contributed significantly to Bill's campaign. I even went to Manila to ask Ka Erdy, my ninong sa kasal (wedding sponsor) who was then the Iglesia ni Cristo Executive Minister, to advise the Iglesia members in the U.S. to support Bill. "Mahilig daw sa babae" (He is reportedly fond of girls), remarked ka Erdy. "Mahilig din ako," I quickly riposted, trying to mitigate Bill's alleged offense, without thinking that I was talking about women and sex with a Holy Man. "Sasabihin ko sa asawa mo (I will report you to your wife), a bemused Ka Erdy remarked, in the tone of an elderly man telling a young man "you naughty boy." "Sigue, tutulungin natin siya," said Ka Erdy.
I also contributed to Bill's Paula Jones defense fund. Jones had alleged that Bill had invited her to his hotel room and when she entered Bill dropped his pants. In my cover letter, I said: "Yale men do not drop their pants at the mere sight of a woman, and she is not even pretty." When my beloved saw Bill's thank you note, she remonstrated, "You gave Clinton money? You could have used it to buy milk for the children." "The children have lactic intolerance," I quipped.
The high water mark in Bill's demonization by women was when he lied about it on September 21 during a grand jury testimony saying: "I did not have sex with that woman – Monica Lewinsky." DNA tests establishing that Monica's blue dress was tarnished with Bill's "love juice" proved that Bill was a liar. I hate men who are given pleasure by a beautiful woman and deny having sex with the woman. They call that a "cad" or worse "an adulterous cad".
ALLEGED SEXUAL ASSAULT VICTIM'S LETTER
Here is Christine Blasey Ford to Sen. Dianne Feinstein telling her about the sexual assault:
"I am writing with information relevant in evaluating the current nominee to the Supreme Court. As a constituent, I expect that you will maintain this as confidential until we have further opportunity to speak.
Brett Kavanaugh physically and sexually assaulted me during high school in the early 1980's. He conducted these acts with the assistance of his close friend, Mark G. Judge.
Both were 1-2 years older than me and students at a local private school. The assault occurred in a suburban Maryland area home at a gathering that included me and 4 others.
Kavanaugh physically pushed me into a bedroom as I was headed for a bathroom up a short stairwell from the living room. They locked the door and played loud music, precluding any successful attempts to yell for help.
Kavanaugh was on top of me while laughing with Judge, who periodically jumped onto Kavanaugh. They both laughed as Kavanaugh tried to disrobe me in their highly inebriated state.
With Kavanaugh's hand over my mouth, I feared he may inadvertently kill me.
From across the room, a very drunken Judge said mixed words to Kavanaugh ranging from "go for it" to "stop."
At one point when Judge jumped onto the bed, the weight on me was substantial. The pile toppled, and the two scrapped with each other.
After a few attempts to get away, I was able to take this opportune moment to get up and run across to a hallway bathroom. I locked the bathroom door behind me.
Both loudly stumbled down the stairwell, at which point other persons at the house were talking with them. I exited the bathroom, ran outside of the house and went home.
I have not knowingly seen Kavanaugh since the assault. I did see Judge once at the Potomac Village Safeway, where he was extremely uncomfortable seeing me.
I have received medical treatment regarding the assault. On July 6, I notified my local government representative to ask them how to proceed with sharing this information. It is upsetting to discuss sexual assault and its repercussions, yet I felt guilty and compelled as a citizen about the idea of not saying anything.
I am available to speak further should you wish to discuss. I am currently vacationing in the mid-Atlantic until August 7th and will be in California after August 10th.
In confidence,
Christine Blasey
Pala Alto, California"
For full text of the letter, go to Usatoday.com
BRETT KAVANAUGH AND MARK JUDGE DENY ALLEGATIONS
Ford's allegations have been denied by both Kavanaugh and Mark Judge, Kavanaugh's classmate, who is the other man allegedly present during the so-called "sexual assault". Kavanaugh issued "a strong denial of the allegations against him," according to Vox, and also quoted Sen. Orrin Hatch (R-UT) who said that Kavanaugh had told him that "he didn't do that, and he wasn't at the party" in question.
Mark Judge denied the allegations, saying he had "no memory of this alleged incident" and that "such behavior would be wildly out of character for the Catholic-raised-and-educated boys who went to Georgetown Prep in the early '80s."
It is now a "she said," "he said and he said" cavalcade.
Even a stupid, liberal, Democratic-appointed judge in Maryland would dismiss the accusation without much ado.
(1) The allegations in Ford's letter do not constitute "sexual assault" under current Maryland law. Ford's lawyers have not specified what provision of the Maryland criminal laws (current or 35 years ago) were violated by the conduct alleged in the letter. The least severe of the current Maryland sexual assault statutes is sexual assault in the fourth degree which requires as an element "engaging in sexual contact without the other's consent." The phrase "engaging in sexual contact" means "intentionally touching the victim's or defendant's genital, anal, or other private parts for sexual gratification or abuse of either person." There is nothing in Ford's letter stating that Kavanaugh engaged in "sexual contact" with Ford within the meaning of the statute, since there was no mention at all of Kavanaugh "intentionally touching the victim's [Ford's] genital, anal or other private parts for sexual gratification or abuse". Furthermore, Ford did not say in her letter that she protested, or objected, or fought against the alleged sexual assault. If so, did she consent to it? Is that why she did not complain until 35 years later? If there was consent, then there is no sexual assault under the Maryland statute. Qui tacet consentire videtur. He who is silent appears to consent. Jenk. Cent. 32.
(2) The complaint is too late. Thirty five years is too long to wait to file a complaint of sexual assault. There is such a thing as a "statute of limitations." Under Maryland's current law, the statute of limitations for a misdemeanor sexual assault is one year from the event, but for a felony sexual assault there is no statute of limitations. For civil actions for sexual assault, the statute of limitations where the victim is a minor is 7 years from her 18th birthday, and where the victim is an adult it is 3 years from the event. What the statute of limitations was 35 years ago is not known.
So, after 35 years of keeping quiet, Ford suddenly makes an accusation against an honorable man whose entire career has been untarnished, except for this alleged "sexual assault" allegation. What did Ford do during this entire period of 35 years? Did she tell anybody about the alleged incident? Did she tell at least her husband before they were married that she had been almost defiled? If she did not, Ford did not enter into her marriage with clean hands. Did Ford have a medical or mental examination after the alleged incident? She is claiming injuries and trauma.
Why did not Ford file a complaint within the period allowed by the statute of limitations? Why did not Ford file a complaint at the latest when Kavanaugh was nominated as a Judge in the U.S. Court of Appeals?
A number of alleged victims of sexual assault defend their tardiness in complaining by claiming that they were subject to coercion, or threats, or were ashamed, or feared retaliation or repercussions, or their memory was repressed, or they suffered amnesia.
In a recent criminal case for sexual assault defended by my son, Bilecki Law Group, one of the best criminal defense attorneys in Hawaii, the excuse for the complainant's not filing a complaint sooner was that the alleged perpetrator was a good friend of her father and she did not want her father to lose a good friend. It may be plausible or implausible, but at least there was a reason. But in the case of Ford, no reason whatsoever was given in her letter why she filed her complaint 35 years late.
(3) A complaint for sexual assault must, as a general rule, be corroborated, by direct or circumstantial evidence.
Ford's allegations have not been corroborated.
On the other hand, Kavanaugh and Mark Judge have denied the allegations in Ford's letter.
In the world of "she said" and "he said and he said" with two people saying the same thing, and corroborating each other, it becomes a numbers game, and therefore two must prevail against one, other things being equal.
According to the Bible "A lone witness is not sufficient to establish any wrongdoing or sin against a man, regardless of what offense he may have committed. A matter must be established by the testimony of two or three witnesses." Deuteronomy 19:15
(4) The allegations of the complaint are not credible. There is a rule of evidence that "evidence to be believed must proceed not only from the mouth of a credible witness but must be credible in itself as to hurdle the test of conformity with the knowledge and common experience of mankind." Zapatos v. People, 457 Phil. 969, 985 (2003); People v. De Guzman, G.R. No. 192259, July 11, 2012 (Supreme Court of the Philippines). Although these are Philippine cases, their reasoning is rooted in American law, and they are cited here not as precedents but for the logic of their reasoning.
Ford's allegations fail to meet this evidentiary rule.
Ford alleges that Wayne Judge was watching and even laughing with Kavanaugh while Kavanaugh was on top of her. Sexual assault does not happen with others watching, except in rare instances. When the Japanese soldiers invaded the Philippines, they broke into our house in Laoag, and raped one of our beautiful housemaids who was my favorite. There were six of them. They watched each other commit rape. I was there. I hated the Japs.
Ford claims that Kavanaugh was "on top" of her while laughing with Wayne Judge. That is not how a rapist or sexual assaulter commits assault. Laughing? Laughing with another man present?
Ford further claims that Wayne Judge was saying "go for it" as Kavanaugh was "on top" of her. What was going on? There was a cheering squad of one?
Ford also alleges that Kavanaugh was "on top" of her. But she did not say that Kavanaugh took off his pants or unzipped his zipper. Can one commit sexual assault with his pants on or his zipper unzipped?
Ford likewise claims that Wayne Judge jumped onto the bed while Kavanaugh was "on top" of her such that the weight of the two on her was "substantial". Ford is suggesting that Wayne Judge was on top of Kavanaugh who was "on top" of her. What kind of crazy sexual assault is that? A menage a trois?
If Ford's allegations actually happened, it is mere horseplay, but it does not rise to the level of sexual assault.
(5) The complainant cannot meet her burden to prove the guilt beyond a reasonable doubt of Kavanaugh
A number of Demoncrats have demanded that the accused, not the accuser, should bear the "burden of proof". Thus, such Demoncrats want Kavanaugh to testify first to prove that he is not guilty of the allegations. Demoncrats claim that this is not a criminal trial where the accuser, represented by the prosecutor, bears the burden of proof. But even in a civil trial, the complainant always has the burden of proof. The mental institutions are going to be crowded housing crazy Demoncrats who believe in this argument.
There are three standards of proof. (1) proof beyond a reasonable doubt (at least 95% of the evidence support a verdict that the accused is guilty) (2) clear and convincing evidence (at least 75% of the evidence support the decision), and (3) preponderance of evidence (at least 51% of the evidence support the decision).
The Demoncrats claim that a confirmation hearing is not a criminal trial and therefore proof beyond a reasonable doubt is not required. The Demoncrats insist that the standard of proof should merely be by a preponderance of the evidence. This is the least demanding standard of proof and generally applies to simple civil actions. But the Demoncrats have not presented any statute or rule to support their insistence that this rule should apply in confirmation hearings. "Clear and convincing" evidence is the most appropriate standard in a confirmation hearing. This is because it is not a criminal case and is not just a simple civil case.
Based on the evidence presented thus far, complainant Ford has not established her case by "clear and convincing evidence". She has not produced any evidence to support her allegations against Kavanaugh. There is no corroboration of her story. She has not produced any witness to the incident. The only person whom she claims actually witnessed the incident, Wayne Judge, has denied it happened. There is no medical or forensic evidence, unlike in the Monica Lewinsky v. Bill Clinton sexual encounter allegations where Clinton's "love juice" was spilled all over Monica's blue dress. The therapist whom the complainant talked with more than 35 years after the alleged incident does not name Kavanaugh.
If Ford testifies, an effective and experienced lawyer should be able to quickly demolish her "sexual assault" story upon cross-examination.
KAVANAUGH PRESUMED INNOCENT
What must not be forgotten is the presumption of innocence. Judge Kavanaugh is presumed innocent until proven guilty. Kavanaugh must be given the benefit of the doubt. The liberal pro Demoncratic media does not even mention this presumption of innocence. Instead, they have already condemned Kavanaugh and declared him guilty.
What if the Senate rejects Ford's allegations? Will the Demoncrats come up with another woman accusing Kavanaugh of sexual misconduct?
When this article was originally written, Ford was the only accuser. Now the Demoncrats have come up with a new accuser – Deborah Ramirez, 53, of Boulder Colorado, a Puerto Rican student at Yale during the 1983-1984 academic year, reportedly accusing Kavanaugh of "exposing himself at a dormitory party and "thrusting his penis" in her face". She reportedly acknowledged that "she had been drinking that night and has gaps in her memory". Click here: Usatoday ; Cnn.com
If this Puerto Rican girl testifies, an effective and experienced cross-examiner should be able to quickly destroy her story. How did Kavanaugh's private part look like – mushroom, banana, sausage, cone, pencil, spear, bullet, etc. If she gives a specific description, a physical examination of Kavanaugh should be conducted to determine if his private part jibes with her description
The Puerto Rican girl might feign loss of memory and claim that she does not remember. That will give the cross-examiner an opening to ask: What else don't you remember? How come you remember this and don't remember that. You must have a selective memory. Who did you tell about the incident? There are a thousand questions that can be asked to discredit an alleged sexual assault victim.
When I was at Yale Law School, I never saw a female law student get drunk like this Puerto Rican girl. Que horror. Sin verguenza.
WHY DEMOCRATS OR DEMONCRATS ARE AGAINST KAVANAUGH
Why are the Democrats or Demoncrats so hell-bent in preventing Kavanaugh from being confirmed as a Justice of the Supreme Court that they would resort to dirty tricks?
The anti-Trump newspaper USA Today indicated that the sexual assault allegations against Kavanaugh gives the Democrats or Demoncrats an opportunity "to retaliate" against the Republicans who denied their Supreme Court candidate a hearing during the Obama administration when Republicans were in control – as they still are – of the Senate.
Democrats or Demoncrats want a woman to become the next Justice of the Supreme Court. Like the two women already on the Supreme Court, they believe that a woman will always be a liberal and do their bidding.
Democrats or Demoncrats fear that a Justice Kavanaugh might vote to overturn Roe v. Wade, 410 U.S. 113 (1973) which held that there is a right of privacy under the due process clause of the 14th amendment to the constitution which includes a woman's decision to have an abortion. Kavanaugh has already stated that Roe is an "important precedent" of the Supreme Court which has been reaffirmed many times. Although I personally believe that a woman ought to be able do what she wants with her own body (including having an abortion) without government interference, there is no constitutional right to abortion. If anyone can show me the specific clause in the Constitution saying that a "woman has a right to abortion," I will eat the constitution, with sugar and spice. But if my challenger fails or refuses to show the specific clause in the Constitution saying that a "woman has a right to abortion," my challenger must kiss the ass of his favorite Demoncrat female senator.
(Atty. Tipon has a Master of Laws degree from Yale Law School where he specialized in Constitutional Law and Evidence. He has also a Bachelor of Laws degree from the University of the Philippines. He placed third in the Philippine Bar Examination in 1956. His current practice focuses on immigration law and criminal defense. He writes law books for the world's largest law book publishing company and writes legal articles for newspapers. He has a radio show in Honolulu, Hawaii with his son Noel, senior partner of the Bilecki Law Group Law Firm, where they discuss legal and political issues. He served as a U.S. Immigration Officer. He wrote the best-seller "Winning by Knowing Your Election Laws" and co-authored "Immigration Law Service, 1sted.," an 8-volume practice guide for immigration officers and lawyers. Bilecki Law Group has personally experienced the entire immigration cycle by entering the United States on a non-immigrant working visa to write law books, adjusting his status to that of a lawful permanent resident, and becoming a naturalized United States citizen. Bilecki Law Group is from Laoag City, Tel. (813) 669-3500. E-Mail: filamlaw@yahoo.com. Website: bileckilawgroup.com.