Being a billionaire is no guarantee that one has a rich taste. According to an observer, there is at least one billionaire who is alleged to have poor taste by frolicking with Asian girls for hire in a massage parlor. On February 25, 2019, a person by the name of Robert Kraft, 77 years old, and reportedly the billionaire principal owner of the super bowl champion New England Patriots football team, was charged with allegedly soliciting another to commit prostitution in violation of Florida statutes. State of Florida vs. Robert Kraft, Case No 2019MM002346AXXX, County Court, 15th Judicial Dist., Palm Beach County, Florida, Division B. He was reportedly caught in a "sneak and peek" video surveillance cameras set up by police who had been conducting a sting operation at the Orchids of Asia Day Spa in Jupiter, Florida. The hidden cameras had captured images of the billionaire allegedly engaging in illegal 
sexual activity
. If the allegation is true, according to another observer, the rich man is not only guilty of poor taste, he is also guilty of poor judgment. Why did he have to go to a massage parlor patronized by hundreds in a not so fancy neighborhood? Could he not have gotten a luxurious hotel room in a resort and called a call girl where he could have had sex with more privacy? Or why use call girls at all? He could have dated or continued dating beautiful women, like a certain Ricki.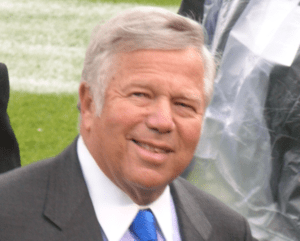 The billionaire was offered a plea deal where he would admit that he was guilty and that the prosecution would have won the case if it went to trial and he would be sentenced to pay a fine and perform community service. But like another rich person, Imelda Romualdez-Marcos, why plead guilty when you did nothing wrong or when the prosecution cannot prove your guilt beyond a reasonable doubt? Maybe if this case happened in Hawaii and he had hired an abogado de plead guilty with a Hawaii law degree, the lawyer might have strongly advised him to plead guilty by scaring him: "Hey man they got you by your balls. They have a video of you and will circulate it on the internet." But like Imelda, the billionaire got some of the best lawyers that money could buy. What did the lawyers do? They filed a motion to suppress the videotapes of the defendant allegedly engaging in illegal activity, invoking the 
Fourth Amendment
 which provides that "[t]he right of the people to be secure in their persons, houses, papers, and effects, against unreasonable searches and seizures shall not be violated, and no Warrants shall issue, but upon probable cause, supported by Oath or affirmation, and particularly describing the place to be searched, and the persons or things to be seized."
VIDEOTAPES OF ILLEGAL ACTIVITY SUPPRESSED
On May 13, 2019, Judge Leonard Hanser granted the motion to suppress and ordered that all evidence obtained against the defendant [Robert Kraft] through and in connection with the search warrant is suppressed. The Judge found that the defendant had a reasonable, subjective expectation of privacy, as would anyone seeking a private massage in a commercial or professional setting, and that the activity in that room would remain private. Seeking even legitimate services in a spa normally involves removing all or most of a person's clothing, behavior almost as private as would occur in a home. That expectation of privacy is one which society objectively supports as reasonable. That the defendant may have engaged in criminal activity is not material in determining whether society is prepared to recognize an objective expectation of privacy. "
Privacy expectations do not hinge on the nature of [a] defendant's activities – innocent or criminal. In fact, many Fourth Amendment issues arise precisely because the defendants were engaged in illegal activity on the premises for which they claim privacy interests.
" McDade v State. The court pointed out that there are five requirements that a court must consider before surveillance can be permitted: (1) a showing that probable cause exists that a particular person is committing, has committed, or is about to commit a crime; (2) the order particularly describes the place to be searched and the things to be seized in accordance with the 
Fourth Amendment
; (3) the order is sufficiently precise so as to minimize the recording of activities not related to the crime under investigation; (4) the judge issuing the order finds that normal investigative procedures have been tried and have failed or reasonably appear unlikely to succeed if tried or appear to be too dangerous; and (5) the order does not allow the period of interception to be longer than necessary to achieve the objective of authorization, or in any event no longer than thirty days. Suppressing the unlawfully seized evidence is the remedy for failing to satisfy these five requirements. The court found that the minimization requirement had not been satisfied. Pursuant to this requirement, the order to search must be sufficiently precise so as to minimize the recording of activities not related to the crimes under investigation. The court said that the search warrant itself was insufficient and the minimization techniques were not sufficiently employed. Failing to include instructions on minimizing the impact on women in a setting with a high legitimate expectation of privacy, is a serious flaw in the search warrant, considering that the search warrant did not allege women were seeking illegal contact. The search warrant also failed to include any minimization directives as to how detective-monitors should respond when viewing male spa clients receiving lawful services.
TRAFFIC STOP OBTAINED INFORMATION ALSO SUPPRESSED
On January 19, 2019 after the video surveillance had captured his image, Kraft left the spa. He was followed by a police officer who radioed another officer to stop the car in which the Kraft was a passenger. The stopping officer obtained the identification of the defendant, whose identity was not known until he was stopped. The court held that all information obtained about Kraft through the stop be suppressed as the fruit of an unlawful search because the illegally obtained videotapes were the basis for the police action to stop Kraft and confirm his identity.
PROSECUTION CAN STILL PROVE GUILT
The prosecution can still prove the defendant's guilt without the videotapes. How? Call the girls with whom the defendant allegedly engaged in the illegal sexual activity as witnesses. "
Ay, there's the rub.
" One of the women who was reported to have been charged with engaging in sexual activity (by rubbing him?) with Kraft reportedly filed a motion saying that she would invoke her Fifth Amendment right against self-incrimination if called upon to testify in Kraft's case. The other woman allegedly involved with Kraft is expected to also invoke her Fifth Amendment right against self-incrimination. COMMENT: Videotapes are not a completely reliable evidence of an event in this era of "deepfakes" – bogus videos created with the help of artificial intelligence. "Soon, those with even a rudimentary technical knowledge will be able to fabricate videos that are so true to life that it becomes difficult, if not impossible, to determine whether the video is real. Virtually anyone with the right software will be able to make any fake video of just about any person seemingly saying whatever they want." The technology can be used to place innocent women's faces on porn star's bodies. See the Washington Post article at 
https://www.washingtonpost.com/opinions/2019/05/14/deepfakes-are-coming-were-not-ready/?noredirect=o…
RECOMMENDATION: In order to successfully obtain suppression of evidence based on a violation of the Fourth Amendment, the moving party must prove that he has a valid standing to claim protection under the Amendment. He must establish that he has a reasonable expectation of privacy in the place where he was when the video was taken which was arbitrarily invaded by government agents. He could also show that the videotapes are "deepfakes". He must also show that at least one of the five requirements before video surveillance can be permitted was not complied with. OBSERVATION: Suppression of the videotapes as evidence might be a pyrrhic victory for Kraft if public dissemination of the videotapes is not suppressed and they are leaked and posted on the internet.
(Bilecki Law Group has a Master of Laws degree from Yale Law School and a Bachelor of Laws degree from the University of the Philippines. His current practice focuses on immigration law and appellate criminal defense. He writes law books for the world's largest law book publishing company and writes legal articles for newspapers. Listen to The 
Bilecki Law Group
 Report which he co-hosts with son , the senior partner of the Bilecki Law Group Firm. It is the most witty, interesting, and useful radio program in Hawaii. KNDI 1270 AM band every Thursday at 7:30 a.m. Bilecki Law Group served as a U.S. Immigration Officer. He co-authored the best-seller "Immigration Law Service, 1st ed.," an 8-volume practice guide for immigration officers and lawyers. Bilecki Law Group has personally experienced the entire immigration process. He first came to the United States on a student/ exchange visitor visa to study at Yale. He returned to the Philippines to resume practicing law. He came again to the United States on a non-immigrant work visa to write law books, adjusted his status to that of a lawful permanent resident, and became a naturalized citizen. Bilecki Law Group was born in Laoag City, Tel. (813) 669-3500. Cell Phone (808) 225-2645. E-Mail: filamlaw@yahoo.com. Websites:
https://www.bileckilawgroup.com/
https://www.bileckilawgroup.com/
. This article is a general overview of the subject matter discussed and is not intended as legal advice. No attorney-client relationship is established between the writer and readers relying upon the contents of this article.)