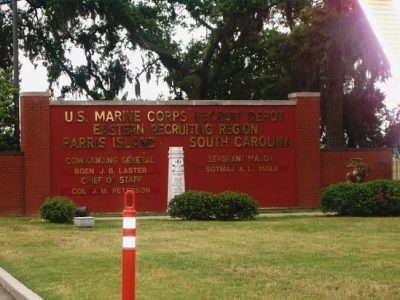 Parris Island Creates A Spartan Class of Marines Who Are Not Afraid of a Military Court Martial
For many who have earned the title of United States Marine, they will remember well the famed yellow footprints of Parris Island where their journey began. During recruit training at Parris Island, recruits are challenged mentally and physically while simultaneously being introduced to the rigors of military discipline and the UCMJ. The end product is a well disciplined Marine ready to deploy in any clime and place where they can take a gun. They will do anything to get into the fight and that is personified by no better example than legendary Medal of Honor recipient Marine, Jack Lucas.
In 1942, Jack Lucas enlisted in the United States Marine Corps, which was a remarkable achievement as he was only 14 years of age at the time. Standing at 5 foot 8 and 180 pounds, Lucas used his stocky frame to convince the recruiter he was actually 17. Once Lucas earned the title of United States Marine at Parris Island, he was shipped to Hawaii where his true age would then be discovered.
The discovery of his age led to him being removed from a combat unit and assigned to driving a truck. This infuriated Lucas who spent the next year fighting anyone who would look at him sideways, despite the fact that he was still only 15. In January of 1945, Lucas had enough of garrison life and stowed away on a ship headed for combat. His garrison unit reported him as a deserter and reduced his rank to Private. After weeks on board the ship, Lucas turned himself in and found out they were heading for Iwo Jima.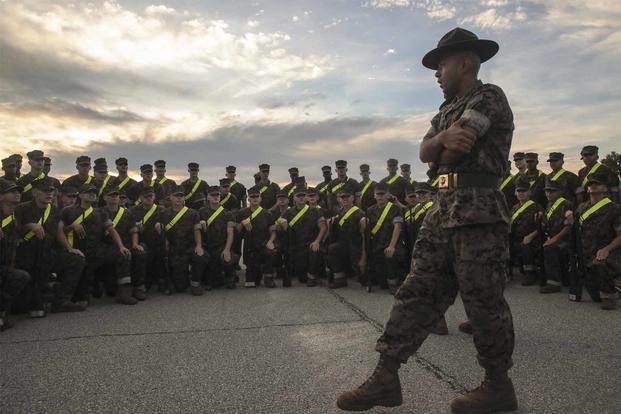 Realizing the Marine just wanted to fight, command let him join a unit. Lucas hit the island and immediately made an impact. Under heavy enemy fire, Lucas and a few other Marines entered a Japanese trench where Lucas quickly made short work of two Japanese defenders. It was then that he noticed two grenades had landed in the trench. With no regard for his own life Lucas jumped on both grenades. One failed to explode and the other did so in grand fashion sending over 200 shards of metal in Lucas' body. Remarkably he survived and for his actions that day, received the nation's highest military honor all by the age of 17.
Service Members Represented
Marines Know How to Run Afoul of the UCMJ When It Matters Most
Though the modern version of the UCMJ was not established until 1950, we are quite confident that young Jack Lucas found a way to violate the entire UCMJ before it ever existed. Then again, Lucas just wanted to get into the fight and that is very much what we all want from our United States Marines. Marines are indeed well disciplined professionals who seem to know how to bend our break a rule when it matters most.
That ability to improvise, adapt, and overcome is not just something that you can turn off when you exit the battlefield and return to the barracks. What Lucas personified was the long standing observations that Marines who thrive in combat are sometimes hell on wheels in garrison. Yet, our nation needs those Marines when it matters most. Here at the Bilecki Law Group, we pride ourselves on keeping Marines in uniform and very much in the fight.
Fighting Back Against the Misapplication of the UCMJ
As it pertains to the military justice system, it tends to take Marines off the battlefield and put them in a courtroom which feels like unfamiliar territory. Thankfully for those Marines, we consider trial by court martial our home turf and we fight like it. We present an aggressive defense for an array of charges and below you'll find a few examples. This list is not comprehensive, but we think you'll see that we are not afraid to fight the most serious of charges.
Marines Fight For Right and Freedom
The Marines' Hymn proudly proclaims that Marines are the "first to fight for right and freedom and to keep our honor clean." That's a hymn that every Marine will sing every single night during their stay at Parris Island. That fight doesn't end just because you are facing charges or investigation. Here at the Bilecki Law Group, we pride ourselves on our ability to help Marines fight that good fight.
Headquartered in Tampa, we consider Parris Island right in the middle of our AOR and whether you are a Drill Instructor or a newly minted Marine, we'll fight for you all the same. We are not afraid to take the trial all the way to court during a court martial and, in fact, we actually prefer it. That's where we win big and that's where you have the best chance to keep your honor clean.
If you are facing an investigation or charges out of Parris Island, please reach out to us. We'll give you a free consultation and shoot you straight as to what you are facing. Just as long as you are willing to fight for right and freedom like young Jack Lucas, we are willing to fight for you. You've earned the title Marine and only the few and proud can say the same. Fight to keep your honor clean and more importantly, fight to stay in the fight for our nation.
Don't just plead guilty… Fight Back !