NAS Jacksonville Personnel Have But One Chance to Fight For Their Careers During a Court Martial
It is often said in war that gunfight is notoriously unkind to the 2nd place finisher and so it is our observation of the court martial process. When a charge under the UCMJ heads to a court martial, there will be a winner and there will be a loser. It's our job to ensure our clients come out on top. Now, it may not be entirely accurate to say there is but one shot at a court martial as an appeals process does exist. However, we treat that trial like it is our one shot as the finest traditions of naval aviators out of Jacksonville demand as much.
This mentality is perhaps demonstrated best by WW2 naval aviator and United States Marine Lieutenant James Swett. Lt. Swett was born to fly and he was eager to get into the action after putting on the uniform. After flight training, he was assigned to the famed VMF-221 out of Guadalcanal. On April 7th, 1943, he would get his first shot at combat and what a first day it would be.
With over 150 enemy planes coming in for a bombing run, Swett knew that each plane downed would save an American life. Within minutes he had destroyed two Japanese planes before he was hit by American anti-aircraft fire. He was able to stabilize the plane and chose to remain in the sky. That's when got his third, fourth, and fight enemy kills. In less than an hour during his first day on the job, Swett had become a fighter Ace. Adding two more to his tally, Swett was going for his 8th kill that day when he ran out of ammunition.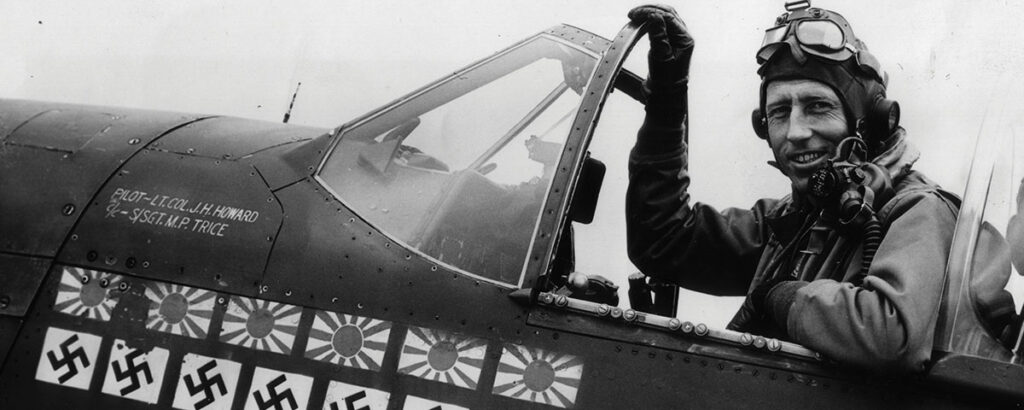 That's when his cockpit was shot to pieces and Swett found himself bleeding heavily and going down into the sea below. His plane crashed into the sea and the straps to his seat were jammed which meant he was going down with the aircraft. That's when his raft inflated and pulled him to the surface. While recovering at a Naval hospital, he was informed that he would receive the Medal of Honor as well as the revered title of Ace. Not bad for a first day's work.
Service Members Represented
Fight the UCMJ Like There is No Tomorrow To Save Tomorrow
There is much we can learn from those men who took to the skies during World War 2 and their tenacity to fight like their lives depended on it is one of them. Granted it helps that the Japanese were there to remind them of it, but good men and women have as much to lose in a general court martial at times. We are talking about their careers, retirements, and yes, sometimes even their very freedom is at stake if they lose.
That's why at the Bilecki Law Group, we choose an aggressive course of action that fights like our client's lives and futures depend on it. Because they do. Namesake and founder Tim Bilecki spent over 8 years as senior defense counsel in the military justice system and over a decade as a civilian defense counsel. He can testify that when charges are preferred under the UCMJ, the prosecution team is coming in for the kill. The military justice system does not like to lose, and prosecutors often act as if their own lives and careers hang in the balance in order to get the win. That's why you need a defense that is willing to fight just as hard. It's a legal dog fight during a court martial and trust us, it is unkind to the 2nd place finisher.
What Types of Charges Can I Fight Under the UCMJ?
The easy answer is all of them. You can fight any charge levied against you, regardless of how much the military prosecutor likes to insinuate that this is a slam dunk case against you. If someone told James Swett that there was no chance to become an Ace in one day while saving countless American lives, do you think he would have backed down? When it looked dicey after his second kill and he was wounded, he had justification to pack it in, but his will to fight was strong. Below you'll find a list of just a few of the charges we fight and just note that this list is not all-inclusive.
NAS Jacksonville Is Right In The Bilecki Law Group's AOR
The Bilecki Law Group is a boutique law firm that operates out of Tampa, Florida. As such, NAS Jacksonville is right in our backyard. Granted, we have clients fly us in to defend them during a court martial from all over the world. The reason is because we specialize in at-trial court martial representation. That's because we like to fight it out in court because that is your best chance to clear your name for good. If that's ever not the case, we'll tell you upfront. But all things being equal, we like to take to the courtroom like James Swett likes to take to the skies.
We also understand the serious nature of what we do. We understand that many members of the military will not get a second chance after a court martial. That's why pride ourselves on our records and stats because we know what it takes to win. As much as we would like to become a defense "Ace" and win five court martial in one day, it's typically just one at a time as we give each client our full attention.
Listen, you have a lot to lose if you are under investigation or you are facing a court martial right now. Don't let the military prosecution convince you that you have no chance of winning. Reach out to us for a free consultation and we'll let you know exactly what you are facing. As long as you are willing to fight, so are we. James Swett became an Ace and a Medal of Honor recipient during his first day on the job. More importantly, he came away with his life. By the time his career ended he would have 15.5 enemy kills. His career went on and you deserve for your career to carry on as well. You just have to be willing to fight back and if so, we'll be right there with you.
Don't just plead guilty… Fight Back !