Fort Sill Soldiers Who Refuse To Give Up Need An Aggressive Military Court Martial Defense
Good Soldiers never quit and they refuse to relent in the face of adversity. Granted, most never think that adversity would come in the form of a military court martial, but perseverance is required all the same. It makes no more sense for a Soldier to lay down in the heat of battle in foreign lands than it does for an innocent Soldier to lay down and take his court martial like a good boy. Look, we realize you may have found this article because you are facing investigation or your own court martial. Before we break down what you are facing, let's get a little inspired as to what it means to never give up and to never stay down.
Benjamin Wilson was an officer who actually received his commission at Fort Sill in 1942, but missed out on all the fighting in World War 2. After a brief post-war stint as a civilian, he wanted back in the Army. However, because they were thinning the officer ranks at that time, Wilson voluntarily gave up his commission and enlisted as a Private. By 1951, the Korean War was in full steam and Wilson's natural leadership had made him a 1st Sergeant by this point.
When his Company was tasked with taking a reinforced enemy position known as "Hell Hill", Wilson did what he did best and led from the front. When his company was pinned down, he charged ahead on his own and killed four enemies manning a machine gun bunker by himself. He then took his men on a furious bayonet charge that killed over 25 Chinese soldiers. That's when the Chinese counter-attacked. Realizing his men stood the risk of being overrun, he led a one-man charge on the attacking force killing 7, wounding 2, and sending the rest running for cover.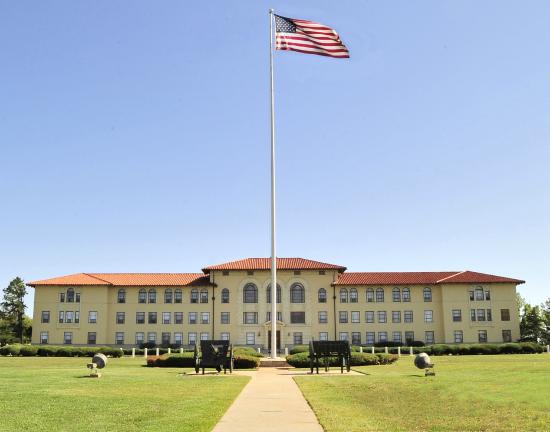 His actions led the Company within 15 yards of their objective before the Chinese showed up in overwhelmingly superior numbers. In the attack, Wilson was wounded and was carried down the hill on a stretcher against his protests. However, the medics had to put the stretcher down to rest. Wilson leaped off the canvas and raced back up the hill in obvious pain. The fighting was hand to hand at this point and after killing three more enemies before his rifle was taken, Wilson broke out the entrenching tool and killed four more Chinese soldiers. He then continued to lay covering fire until he was wounded yet again. For his actions that day, Wilson was awarded the Medal of Honor and the eternal respect of every Soldier who watched him get back up that day.
Service Members Represented
Never Give Up and Never Surrender to Misuse of the UCMJ
Clearly, Wilson was a man who knew what it meant to never give up and we didn't even get into the fact that just a few days later, he was awarded the Distinguished Service Cross as well for more gallant actions. It was said that had he not just received the Medal of Honor a few days earlier, that this action too would have warranted the nation's highest military honor. Wilson doesn't quit and it is in that same spirit that we plead with you not to give up when you are facing the misuse and abuse of the UCMJ.
Now, we understand that UCMJ has its right and proper use to maintain military discipline. As such it is an ally in the fight for our nation. However, when it is misused or places innocent men and women in its crosshairs, the UCMJ can be a cruel friend. When you are facing such an uphill battle as was Wilson, the only recourse is to stand back up and get back in the fight for your career, reputation, and your freedom.
What Types of UCMJ Charges Can The Bilecki Law Group Fight
Namesake and founder, Tim Bilecki, spent years inside the military justice system as a senior defense counsel with the Army. What he saw was a system that would spare no cost and step over any career in order to seem infallible. It pressured Soldiers to accept their punishment like good Soldiers and completely disregard how articles of the UCMJ were inconsistently applied from command to command. What Tim learned first hand was that it is almost a shock to the system when Soldiers fight back with a fierceness unforeseen. When a good Soldier refuses to lay down, they win more often than they lose. We believe a staunch military court martial defense to be essential to this process and as such, we don't shy away from the most serious of charges.
Take the Fight All The Way to Trial During a Court Martial If Needed
The Bilecki Law Group is a boutique firm that specializes in at-trial courtroom representation during a Court Martial. Military members fly us in from all over the world to defend their cases because we have a defense so aggressive it looks more like an offense. In doing so, we've developed quite a reputation among military prosecutors and when they see our name on the docket, they know they have a fight on their hands. No questions about it.
We do this because we know that this is your best chance to fight back and because we truly believe that you are more than the sum of charges levied against you. We see that with Soldiers at Fort Sill, Oklahoma and you'll see that we believe that of you as well. There is always more to the story and typically, when the military prosecutor wants you to lay down and give up, it means you should fight the hardest.
If you are under investigation or facing a court martial, reach out to us and we'll give you a free consultation. We'll always shoot you straight as to exactly what you are facing. So long as you are willing to stand up and fight, so are we. We just need you to get back up off of that stretcher and like Wilson, continue back up the hill for your career, retirement, and your freedom. Don't give up. Never relent and take the fight back to the military justice system.
Don't just plead guilty… Fight Back !